Description

ET51 Enterprise Tablet with Integrated Scanner and Payment 
COMPACT ENTERPRISE TABLET WITH BUILT-IN SCANNING
Integrated SE4710 imager, fully assembled with a pre-installed adjustable hand strap in a protective frame with increased drop specs. Instantly create a mobile payment solution with the use of a Zebra Payment Accessory Cover to attach your payment device. Choose Windows or Android platform.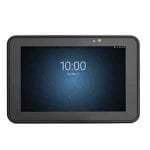 ET51 Enterprise Rugged Tablet 
RUGGED YET LIGHTWEIGHT
For use inside or on grounds with WiFi coverage, the ET51 is thin and lightweight, but will take a drop, a hose-down, or handle sub-zero temperatures. Daylight viewable displays in either 8.4in. or 10.1in. sizes and fanless design for quiet, efficient operation. Add a barcode reader on the back. Choose Windows or Android platform.
ET56 Enterprise Rugged Tablet 
WIRELESS WAN ENABLED
When your work takes you off-site, that doesn't mean you're out of touch. With the ET56 Android or Windows tablet, you can communicate almost anywhere with fast LTE WAN access. With a weight as little as 1.15 lbs. and a mere 1/2-inch thickness, you'll hardly know it's there. And with the power and battery life to keep your apps at your fingertips, even if you're wearing gloves, in any weather.