Description
The Unitech HT730 offers one-handed operation with an ergonomic keypad for a powerful warehousing data collection solution. Featuring Android 10 OS with GMS certification, the HT730 is equipped with Qualcomm® Artificial Intelligence (AI) CPU for optimal performance and intuitive interactions. The HT730 is suitable in a wide range of applications in warehousing, logistics, and field service.
Features

• Android 10 OS with GMS certified
• Ergonomic one-handed operation
• Superior 2D scanning performance: Support 30-degree scanning tilt down
• Superior performance with a scanning range of up to 2.5-feet away (65 feet with our Long Range model)
• Support IEEE 802.11a/b/g/n, 802.11ax-ready, 802.11ac Wave 2 with 2X2 MU-MIMO WLAN Standard
• 6700mAh battery for 20-26 hours operation
• True Hot-swap battery design without downtime
• 6-foot (1.8 m) drop-resistant housing (7.8-feet with bumper)
• IP67 protection against water and dust
• Durable keypad with backlight: 38/29 keys with 2.5 million lifetime clicks
• Supports Bluetooth® 5.1
• Supports MDM software and utilities such as MoboLink, StageGo
Powered by Android 10 OS with GMS Certification
The Unitech HT730 features ergonomic one-handed grip for powerful data collection solutions. Operating on Android 10 OS with GMS certification, the HT730 is equipped with a 5th gen Qualcomm® AI Engine for smarter, more intuitive interactions that are suitable for a wide range of applications in warehousing, logistics, and field service.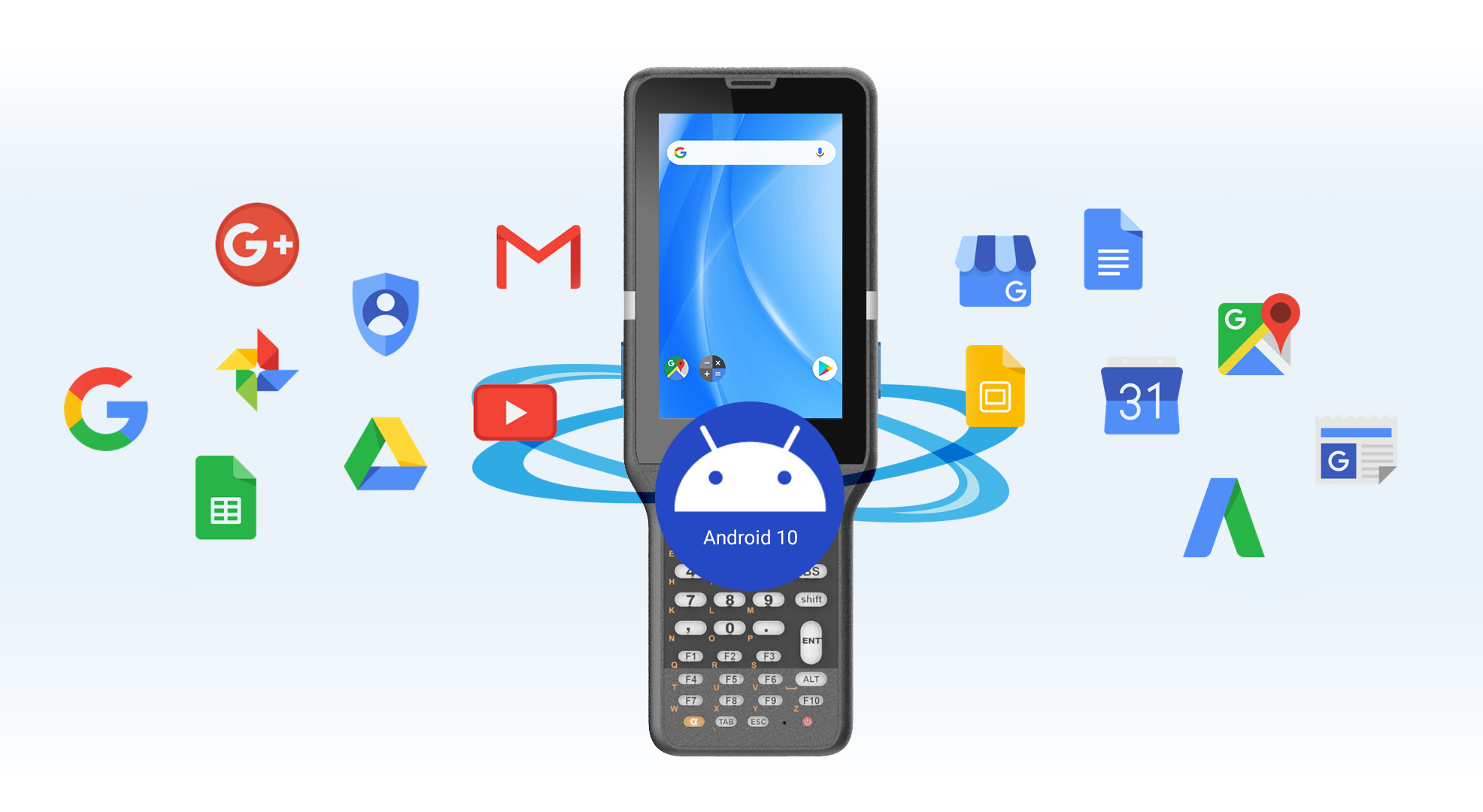 Android 10 


Operation System

GMS




Certification

Octa-Core




CPU

4 GB RAM 




64 GB Flash
Superior Performance with Long Reading Distance

Specially built for an extended-range work environment, the HT730 4" rugged handheld terminal features superior performance with a scanning range of up to 2.5-feet (65-feet with our Long Range model) away. The device supports all barcode symbologies including 1D, 2D, Dot Code, and OCR and boosts your scanning performance at a speed of 60fps.

Ideal for tasks that require heavy scanning, the HT730 features a powerful 2D megapixel scanning engine with a wide 30-degree scanning tilt-down design. It also delivers motion tolerance of up to 5m/s, the HT730 increases its operational effectiveness even while moving.

Support




2D, Dot code, OCR

65-foot




Reading Distance

30 degree




Scanning tilt down design

5m/s




Motion tolerance
One-Handed Operation with Large Keypad

Featuring a 4-inch display and 400nits brightness, the HT730 provides visual scan feedback and easy viewing in outdoor environments. It comes with a large keypad as well as dual scanning buttons for instinctive data entry and barcode capture for inventory checks and warehouse item management. Constructed with rugged materials, clearly visible backlight design, and long-term abrasion protection for 2.5 million lifetime clicks, you can trust the HT730 for durability and reliable accuracy.

4-inch 




Display

2.5 million

Lifetime clicks

38 / 29




Keys

One-Handed




Operation
No Downtime with True Hot-Swap Battery

Featuring hot-swap technology, the HT730 allows batteries to be swapped without interruption for up to a minute. With a long-lasting 6700mAh removable battery, the HT730 allows continuous use for 10-12 hours, and easy switching between batteries when the power does run out.

6700 mAh

Removable battery

True Hot-Swap

Technology

10-12 Hours

Operation
Boosts Wireless Communication Performance

The HT730 is equipped with 2X2 MU-MIMO antennas that boost its wireless performance for faster data transferring, allowing staff to get connected immediately. Built-in 4G dual-SIM slots provide double signal coverage and real-time communications even in different countries. A13MP camera offers an easy way to show proof of delivery and detect shipment issues.

4G LTE

Dual-SIM
slots

2X2 MU-MIMO

WLAN

Bluetooth® 5.1
SmartPA: Better Audio Output

The SmartPA takes full advantage of the HT730's compact speaker to provide better sound quality with maximum volume. In distracting or noisy environments, outdoor workers can access messages through a clearer, more natural, and higher-quality audio experience while speaking on Unitech mobile computers. SmartPA's built-in solution detects the current and voltage in speaker mode and minimizes circuit/ temperature damage, providing seamless communication between coworkers to achieve superior productivity.

 

Power Amplifier

Better Audio Output

Built-in Algorithm

 Lessen Circuit / Temperature Damage
Ultra-Durable
Designed for harsh environments, the HT730 features an ultra-durable design that can withstand 6-foot (1.8m) (7.8-foot with bumper) drops to concrete and is certified with IP65 / IP67 environmental seals against water and dust. Moreover, the HT730 offers options including a rugged gun grip, a rugged UHF RFID long-range reader (available end of 2021), and even a rugged extra-long-range barcode scan engine that enhance the ease of use and facilitate user comfort in inventory tracking and data collection solutions.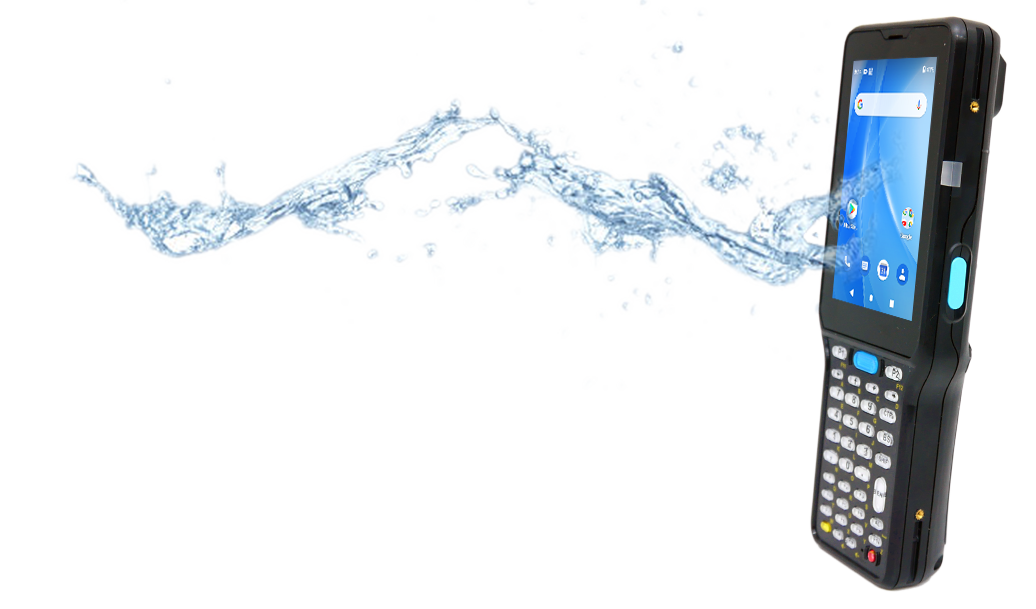 6-foot




Drop protection

7.8-foot




Drop protection




(with bumper)

IP65




Rating

IP67




Rating
SKUs

HT730-NAL1UMBG:
HT730, 38-key, Qcta-core 2.3 GHz, Qualcomm 720G (SM7125), Android 10, 4GB RAM / 64GB Flash, 2D Engine N6703, BT 5.0, WIFI, 4G LTE, Camera, Terminal with Battery

HT730-NA61UMBG:
HT730, 38-key, WiFi ONLY, Qcta-core 2.3 GHz, Qualcomm 720G (SM7125), Android 10, 4GB RAM / 64GB Flash, Honeywell 2D Engine (N6703), BT 5.0, 802.11 a/b/g/n/ac/ax, Camera(13MP) with Battery and Hand Strap

HT730-QA612MBG:
HT730, 29-key, WiFi ONLY, Octa-core 2.3 GHz, Qualcomm 720G (SM7125), Android 10, 4GB RAM / 64GB Flash, 2D Engine(N3603), BT 5.0, 802.11 a/b/g/n/ac/ax, Camera(13MP) with Battery and Hand Strap

HT730-QAL12MBG:
HT730, 29-key, WiFi + 4G LTE, Octa-core 2.3 GHz, Qualcomm 720G (SM7125), Android 10, 29-key, 4GB RAM 64GB Flash, 2D Engine(N3603), BT 5.0, 802.11 a/b/g/n/ac/ax, Camera(13MP), 29 keys with Battery and Hand Strap

HT730-LA61UMBG:
HT730, 38-key, WiFi ONLY, Qcta-core 2.3 GHz, Qualcomm 720G (SM7125), Android 10, 4GB RAM / 64GB Flash, Honeywell 2D Engine EX30, BT 5.0, 802.11 a/b/g/n/ac/ax, Camera(13MP) with Battery and Hand Strap
OS

Android 10

GMS Certified

GMS certified

CPU

Octa-Core 2.3 GHz, Qualcomm 720G (SM7125)

Memory

4GB RAM / 64GB Flash

Languages Supported

Multi-languages
Screen Size

4"TFT-LCD WVGA (480×800) color screen (400 nits)

Touchpanel

Ultra-sensitive capacitive touch screen, compatible with gloves and support wet resistance
Buttons / Keypad

Numeric (29 key)/ Function Numeric (38 key) with backlight
Camera

Rear 13 MP Autofocus with flash
Type

LED, Speaker, Vibrator
1D Barcodes

1D : UPC/EAN/JAN, GS1 DataBar, Code 39, Code
128, Code 32, Code 93, Codabar/NW7, Interleaved 2
of 5, Matrix 2 of 5, MSI, Trioptic

2D Barcodes

2D : PDF417, MicroPDF417, GS1 Composite ,
Code11, Aztec Code, Data Matrix, QR Code, Micro
QR Code, MaxiCode, Han Xin Code, DOT Code

Postal: Intelligent Mail Barcode, Postal-4i, Australian
Post, Japanese Post, Netherlands (KIX) Post,
Postnet, Planet Code

OCR: OCR-A, OCR-B, E13B (MICR)
UHF RFID

Frequency: 865~868MHz, 902~928MHz
Protocol: EPC global Class 1 Gen 2 ISO 18000-6C/6B
Antenna gain: 4dbi
Output Power : 1-30dbm adjustable
Data Capture Range: 6~8 meters

HF RFID

Support HF/NFC
Frequency 13.56Mhz
Support: ISO14443A/B, ISO15693 standard
Bluetooth®

Bluetooth 5.1

WLAN

802.11a/b/g/n, 802.11ax-ready, 802.11ac Wave 2
(Dual Antenna, 2X2 MU-MIMO support)

WWAN

LTE Advanced Support Up to CAT4
LTE (FDD) – Bands 1, 2, 3, 4, 5, 7, 8, 17, 20, 28
LTE (TDD) – Bands 38, 39, 40, 41
UMTS/HSPA+ (3G) – Bands 1, 2, 5, 8
GSM/GPRS/EDGE Quad-Band (850/900/1800/1900 MHz)

GPS

GPS, GLONASS, Galileo, BeiDou

Sensors

Gyroscope, G-sensor, E-compass, Light & Proximity Sensor
USB

USB 3.1 (type-C) support USB OTG
Support Display Port Mode
Ethernet/USB-Host via cradle

OTG

Yes, over USB Type-C

POGO Pin

Custom IO connector (include USB Host)

SIM Slot

Nano SIM Slot x 2

Expansion Slot

Micro SD/TF x 1(Support SD, SDHC and SDXC), Up to 256 GB

Audio

2W output,105 dB at 10cm, Dual-Microphone, support noise cancellation
Dimensions ( W x D x H )

7.6 in. x 2.8 in. x 1.3 in. (195 mm x 72 mm x 34 mm)

Weight

13.9 oz (395g) with battery
Drop Specification

6-feet (1.8m) 7.8-feet (2.4m) with bumper)

Sealing

IP67
Operating Temperature

-4°F to 12°F (-20°C to 50°C)

Storage Temperature

-22°F to 158°F (- 30°C to 70°C) without battery

Charging Temperature

32°F to 113°F (0°C to 45°C)

Relative Humidity

5% ~ 95% (non-condensing)
Main Battery

3.7V 6700mAh

Hot Swap

Keeps applications active up to 1 minute
MDM Software

SOTI, AirWatch, 42Gears, and MoboLink
Regulatory Approvals

CE, FCC, NCC, IC, VCCI, TELEC, CCC, SRRC, RoHS, CEC, BQB, GMS, N-Mark
Standard Package Contents

■ HT730 Terminal
■ Battery
■ Hand Strap
Accessories

■Battery 4.2V 6700mAh (PN#1400-900061G)
■ Hand strap (PN#608909G)
■ USB 3.0 type-C cable(PN#1550-905908G)
■ Power Adaptor(PN#1010-900061G(US) PN#1010-900062G(EU) PN#1010-900063G(CN)
■ Single Slot Charging cradle
■ Single Slot Ethernet cradle with USB host
■ 4-Slot Charging cradle
■ 4-Slot Ethernet cradle
■ 4-Slot battery charger
■ Glass Screen Protector
■ HT730 Bumper Package for Standard Range Engine (PN#5400-900048G)
■ HT730 Bumper Package for Long Range Engine (PN#5400-900049)